The News 2018 - March
{
}

14

mars

2018

This is the english version of the Newsletter.
the original texts have been translated by Sonia B.
The song of the month
NOVA / Aguas De Marco
New album
Sophie ALOUR / Time For Love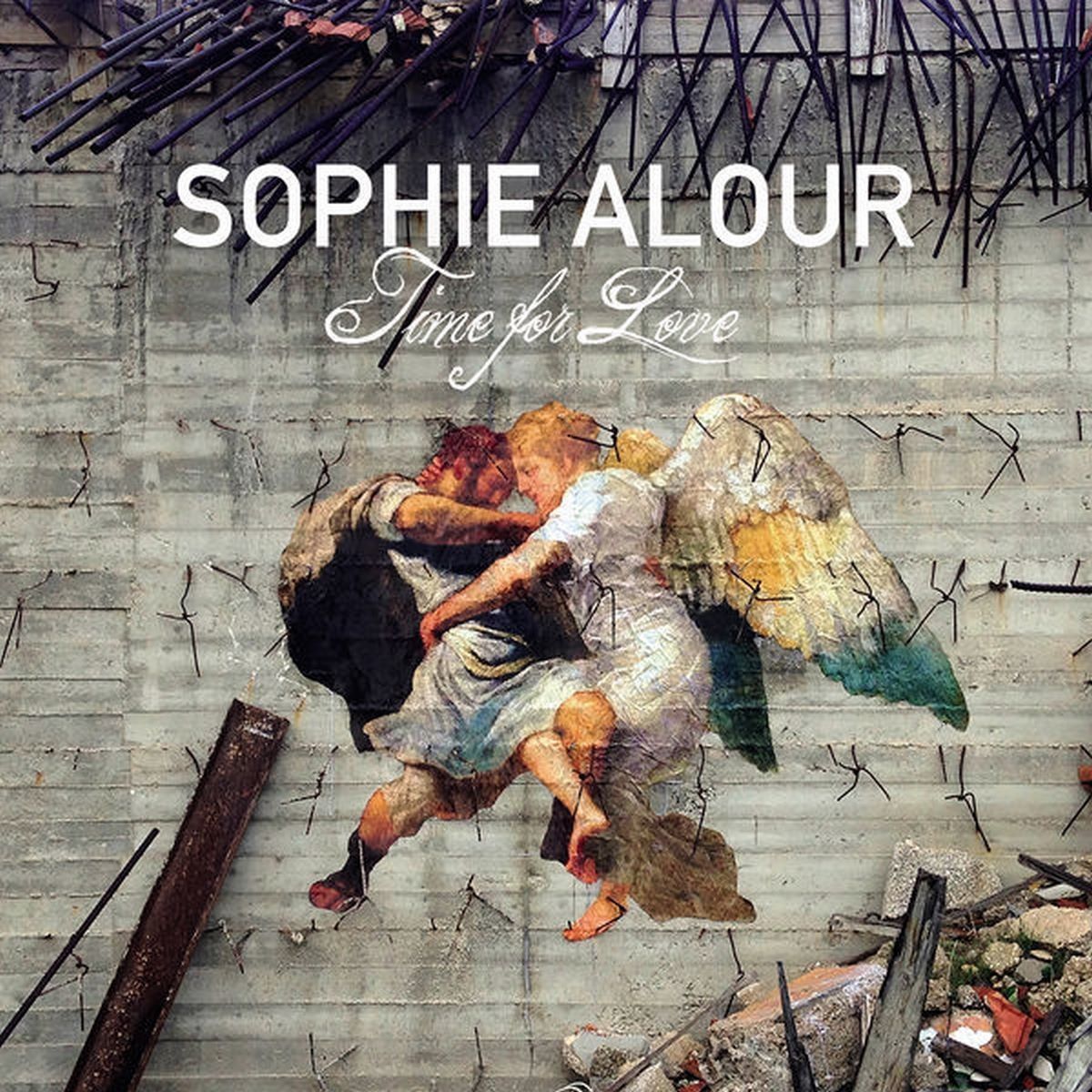 Here is how Sophie Alour talks about her new album :
"I've always nurtured a huge admiration for singers like Ella Fitzgerald, Billie Holiday or Joni Mitchell but above all Shirley Horn, lover of slowness, High Priestess of silence who seems to whisper songs in your ears… And for me, a sax player, it is both a dream and a challenge to compete with the human voice".
By returning to jazz standards, as many actual musicians do, she demonstrates her attachment to the themes that have marked the history of Jazz and the continuously renewed possibility to interpret and even reinvent those themes.
"Time For Love", dedicated to ballads written by great composers (George Gershwin, Jimmy Van Heusen, Hoagy Carmichael, Cole Porter…) allows Sophie Alour to fully express her sensitivity in a record that proves a high-achievement saxophone play. This album features exceptional musicians who, besides their inherent qualities, reveal a remarkable sense of cohesion under the direction of David El Malek.
Without a doubt, this ethereal and subtle album is going to be one of the greatest albums of the year !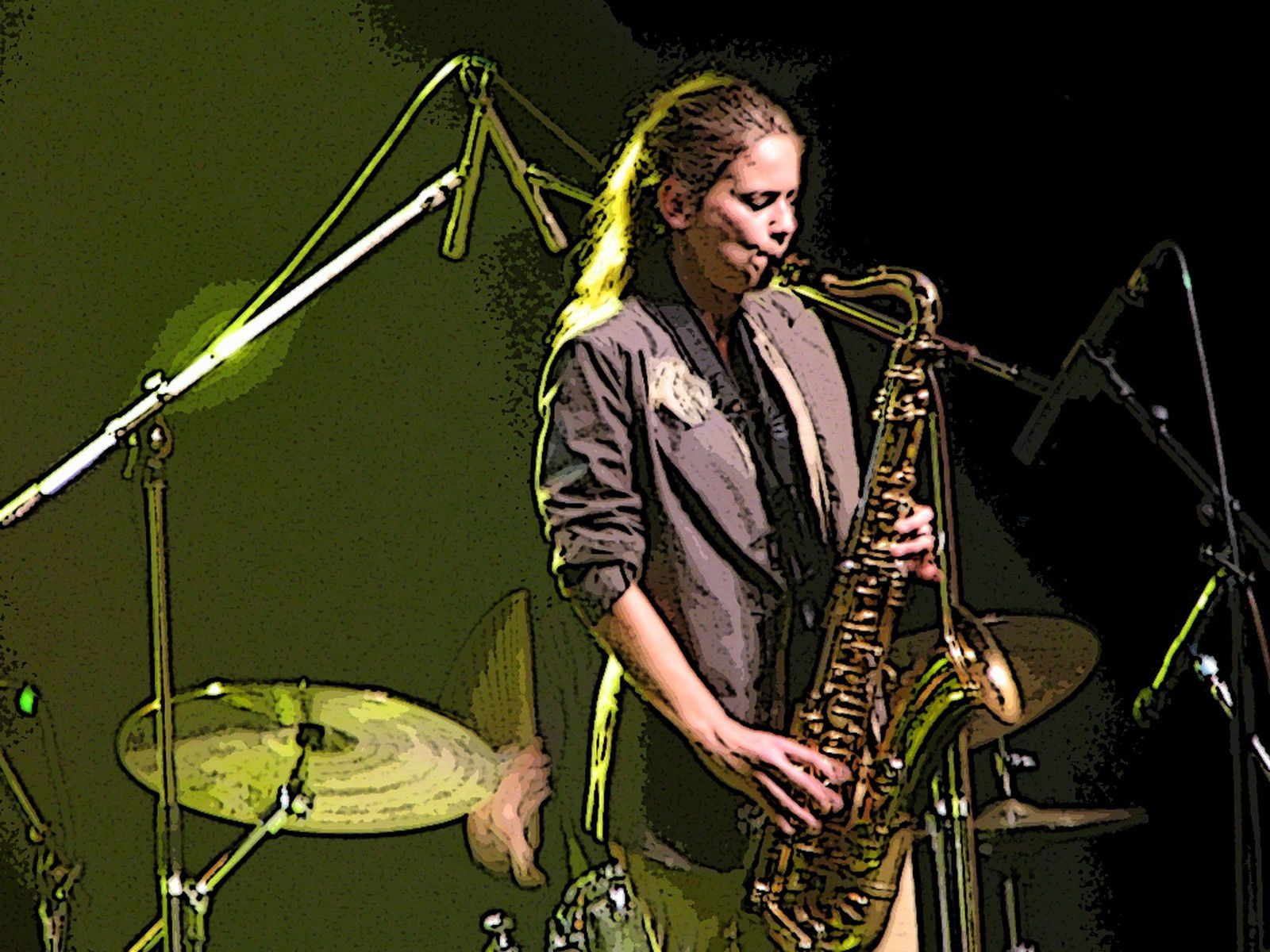 The musicians
Sophie Alour (Tenor and Soprano Saxophones),
Sandro Zerafa (Guitar), Sylvain Romano (Bass),
André Ceccarelli (Drums), Stéphane Belmondo (Flugelhorn),
David El Malek (Tenor Saxophone), Glenn Ferris (Trombone),
Rhoda Scott (Organ), Alain Jean-Marie (Piano),
Laurent Coq (Piano).
And finally, there is the sleeve, intriguing at first sight.
It was made by street artist Julien de Casabianca and is part of his "Outings Project".
Launched in 2014, the project aims to take art out of museums. For this purpose, Julien De Casabianca takes pictures of paintings, dig characters out of them, print and stick them on cities walls (in Paris, New York, Moscow, Hong Kong… or Jerusalem in this case).
http://www.outings-project.org/gallery
"This sleeve tells a lot about what I've put in this record. It tells about art as an organization of chaos, whether it is existential chaos or war chaos. Art that emerges from ruins and that would come save us from the world's brutality, that express hope inherent to Man, capable of the best and the worst. This sleeve also tells about past that interlock with present, about déjà vu perceptible in what is unprecedented". Sophie Alour.
The Mermaid Singing - Philippe VINCENT's Column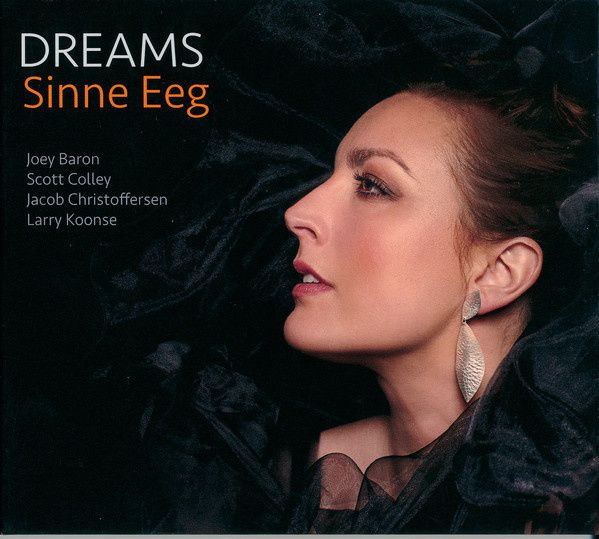 The beginning of the 21st century has been marked by the birth of a spontaneous generation of female singers whose career might not last forever. But this profusion of vocalists sometimes brings excellent surprises. Such is the case with Sinne Eeg, although she is not famous yet in France – in spite of a few concerts and a Vocal Jazz Price awarded by the Académie du Jazz three years ago – this Danish singer is no longer a beginner.
Born in the late 70' in a propitious musical environment (a bassist father and a saxophonist brother), she turned away from years of learning Classical music in her teens, because she was irresistibly attracted by the jazzistic adventure. "I truly love to improvise and I have trouble making music that doesn't involves impro", she revealed to us during an interview at Capbreton Festival in 2016. We have discovered Sinne Eeg a few years ago when her tasty album Don't Be So Blue was released, fast followed by another album that involved cords, an arrangement by Gil Goldstein and Peter Erskine's sticks.
But it is in 2014 that Face the Music, the album of the maturity, was internationally applauded and followed in 2015 by a real little gem where she sings in duo with the magic bass of Thomas Fonnesbaek – worthy successor of Niels-Henning Ørsted-Pedersen.
No wonder she comes back today surrounded by some American giants (Joey Baron, Scott Colley) for her ninth album entitled Dreams (Stunt Records/Distri Una Volta), recorded at the famous Systems Two Studio in Brooklyn. But despite the attractive force of America – where she keeps touring more than ever – she never forgot her lifelong pianist Jacob Christoffersen, whose last trio album we've been praising on this very blog a few months ago.
This splendid album highlights the multiples qualities of this accomplished musician: a warm tone, a natural and flexible swing feel, a terrific phrasing, a tasteful repertoire, a continuous inventiveness, etc. "I try to favor spontaneity, improvisation and this feeling of pure joy that animates me when I sing". All those qualities are discernable in her personal compositions as well as in her talented interpretations of standards. Thanks to Sinne Eeg, Copenhagen's "little mermaid" isn't alone anymore.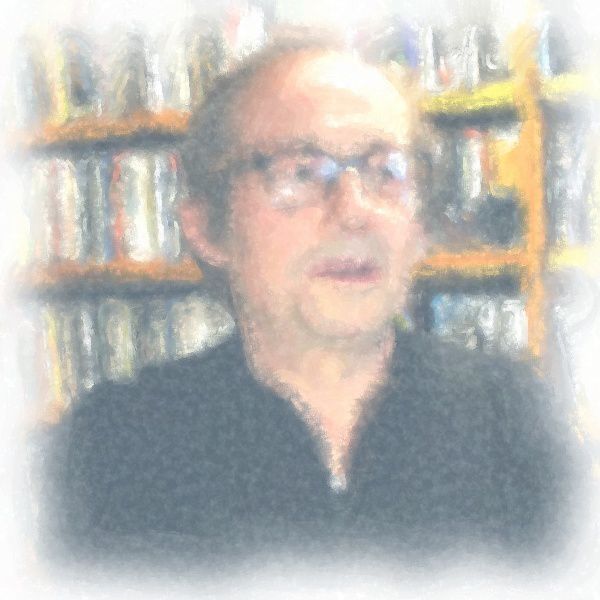 Director of OMD (1983-1996), a society specialized in the distribution of jazz labels (Enja, Timeless, Muse, Sunnyside, GRP, etc.), founder of the label IDA Records (1984-1998) which recorded Barney Wilen, Louis Sclavis, Laurent de Wilde, Enrico Pieranunzi and many others, Philippe Vincent is a member of the Académie du Jazz and a regular contributor to Jazz Magazine/Jazzman since 2008.
A Song, A Story
I'm Beginning To See The Light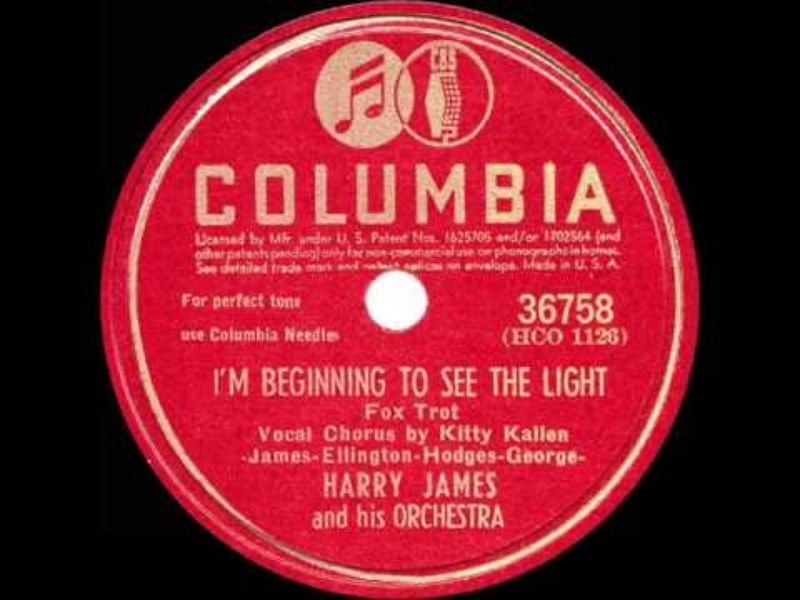 This song, composed in 1944, was born out of the collaboration between Duke Ellington, Harry James, Johnny Hodges and Don George (who wrote the lyrics). The title is allegedly an allusion to Duke's belonging to Freemasonry. The song reached the top of the Charts in 1945, thanks to Harry James and singer Kitty Kallen's version. The latter was one of those excellent Big Band singers – and so was Helen Forrest – today completely forgotten.
Two Other beautiful versions :
Count Basie "Count Basie Plays, Joe Willams Sings Standards" (1956) Ella Fitzgerald "Ella And Basie" (1963)
Seen Online
Roy HARGROVE Quintet/ Rouge / You're My Everything
Trumpet player Roy Hargrove was born in Waco, Texas. He was "discovered" by Wynton Marsalis on the occasion of a visit in the university where Roy was a student back then. In the course of time, he became one of Modern Jazz major figures. On the video below, recorded during Jazz Festival 2010, he interprets a medley (Rouge / You're My Everything) with an extreme sensitiveness.
I was lucky to hear him play several times, most notably at the Blue Note in New York with his Big Band.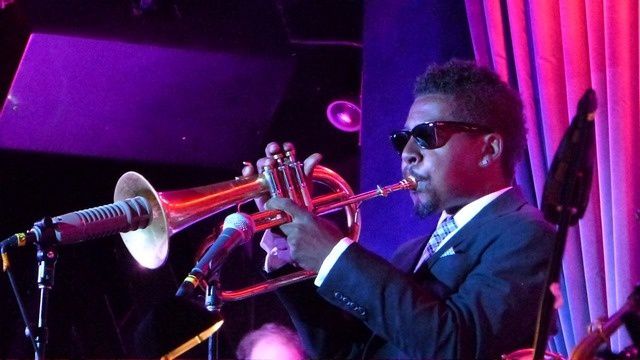 Blue Note - August 24, 2013
Bad News
Didier LOCKWOOD (February 11, 1956 - February 18, 2018)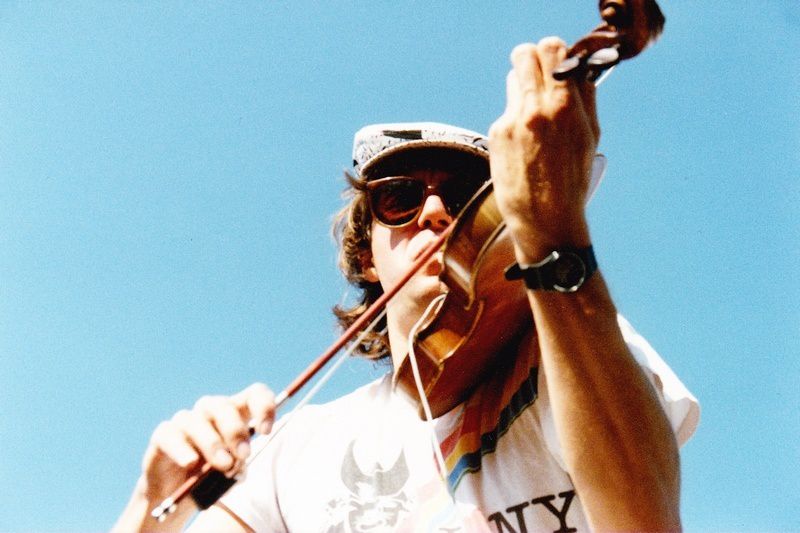 Violonist Didier Lockwood died suddenly on February 18th, at the age of 62. A true jazzman but also an eclectic musician, he started his career in the middle of the 70' as a member of Christian Vander's band Magma. Picked out by Stéphane Grappelli, he then started playing with the greatest Jazzmen (Miles Davis, Herbie Hancock, Marcus Miller, Wynton Marsalis…), but also with Barbara, Jacques Higelin, Claude Nougaro. In the 2000', his show "Le Jazz et la Diva" – where he mixed Jazz and Classical music with soprano singer Caroline Casadesus who was his wife back then – was a triumph. Curious about every musical genre, he was mostly a great improviser.
An Album, A Story
THE BEATLES / Abbey Road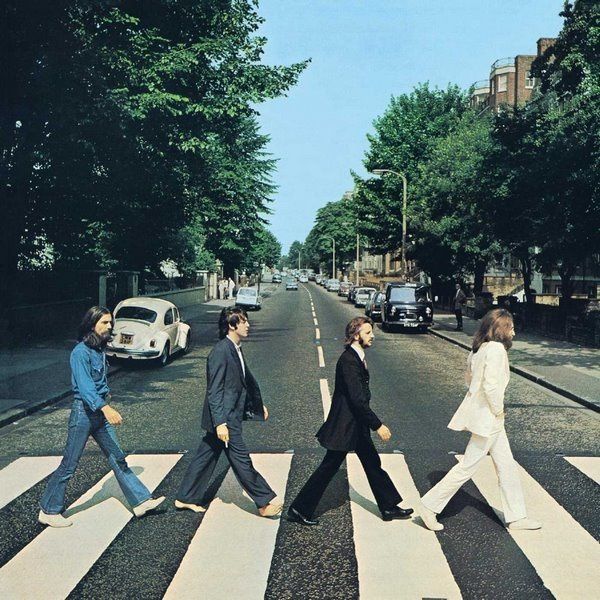 Released before although recorded after "Let It Be", Abbey Road is definitely The Beatles' last album. Back then, the band faced a deep crisis, each member aspiring to complete his own project, particularly John Lennon who had just formed the "Plastic Ono Band" together with his new wife Yoko Ono. She has often been blamed for the band's break-up. I personally find this statement exaggerated. Even if Yoko's presence during the recording of Abbey Road surely created tensions, the divorce was already effective. In spite a this far from relaxed atmosphere, the creative magic happened again as soon as the four artists were reunited in the studios. The result : one of their most high-achievement albums with strong compositions, in particular George Harrison's "Here Comes the Sun" and "Something" (considered by Frank Sinatra as 20th century's most beautiful song).
It is impossible to talk about Abbey Road without mentioning the sleeve.
The album was originally entitled "Everest" and a picture taken at the foot of the Himalaya was first contemplated but considered too expansive. Paul McCartney had the idea to take a shot on the crosswalk in front of the Studios located on 3 Abbey Road. They meet the morning of August 8th of 1969, shot by photographer Iain McMillan who takes half a dozen pics and chooses the famous one. "It was the only one that had their legs in a perfect 'V' formation", McMillan said.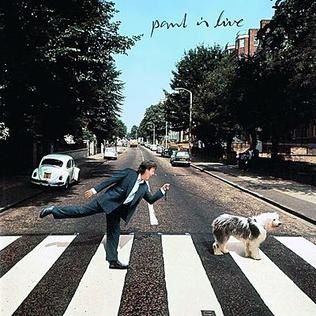 The Conspiracy theory everyone talks about these days isn't really something new.
Abbey Road's sleeve nurtured the fans' fantasies. Paul McCartney would have died in a car accident in 1966 and would have been replaced by a double (who even bears a name – William Campbell, an American actor who indeed looks like Paul). The evidence? Paul is barefoot and holds his cigarette with his right hand although he is a left-handed. Ringo wears a black mourning suit and John a white suit, symbol of afterlife.
And then there is the ultimate proof : the Volkswagen Beetle parked nearby bears the registration plate "LMW 28 IF" which would mean "Living McCartney Would Be 28 If" (If he was alive, McCartney would have been 28).
These are of course fables. Paul himself played with the sleeve of his album entitled "Paul Is Live", released in 1993.
I was lucky enough to see Paul on stage a few years ago and I can assure you that it was him that I saw on that night!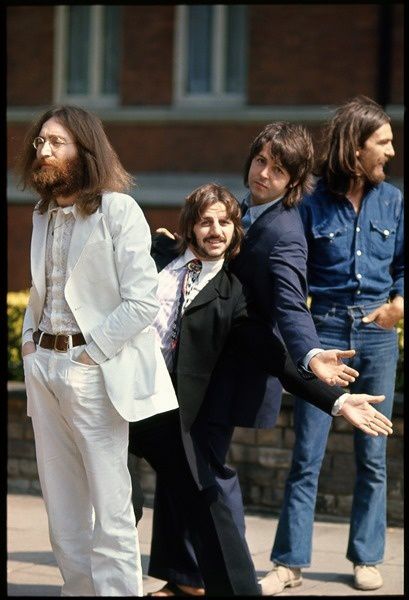 The adjacent picture was taken by Linda McCartney when the "Fab Four" were about to cross the road at the pedestrian crossing located in front of the EMI Studios where the album was recorded. George is inattentive, Paul and Ringo seem to have fun. As for John, he's already far away !
A Painter to discover or rediscover
Pierre-Gérard LANGLOIS (1940 - 1994)
Originally from Montauban, this painter and lithographer was also a great decorater (he notably worked with Jean Vilar's Théâtre National Populaire). As a master of white color, he prefers to suggest rather than to show, as is the case for his representations of Venice.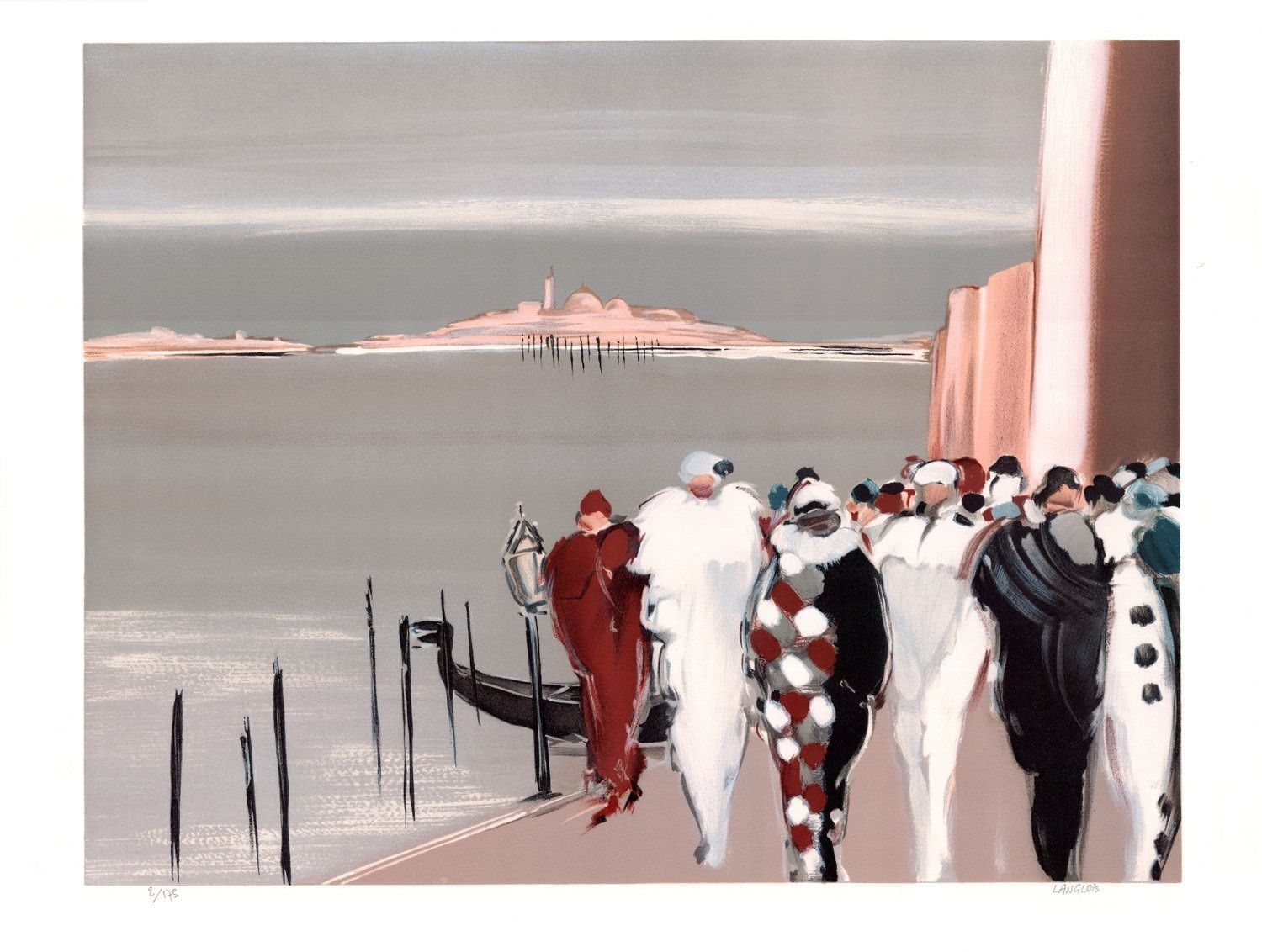 "Aube Vénitienne" - Lithography 55 X 76
A Photography, A Story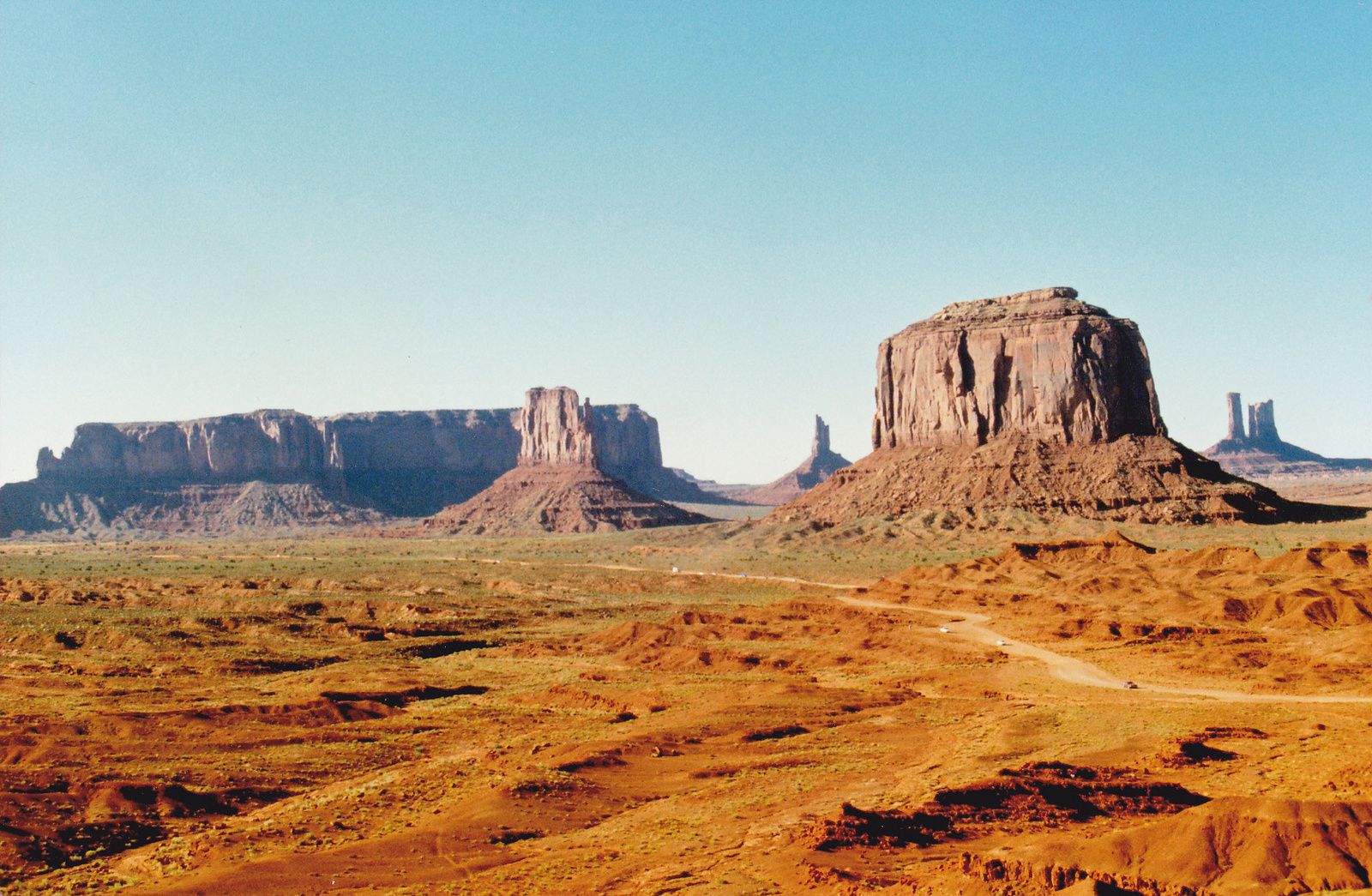 USA - Monument Valley - September 1993
Located on the border between Colorado and Utah, on Navajos territory, Monument Valley is one of the US most remarkable National Parks. People got to discover the site in 1938, thanks to John Ford's Stagecoach. For that matter, I took this photo from "John Ford Point". By looking at the cars located on the dirt road winding at the foot of rocky hills, you will get an idea of the site's gigantism.
A Picture, A Story on Adobe Spark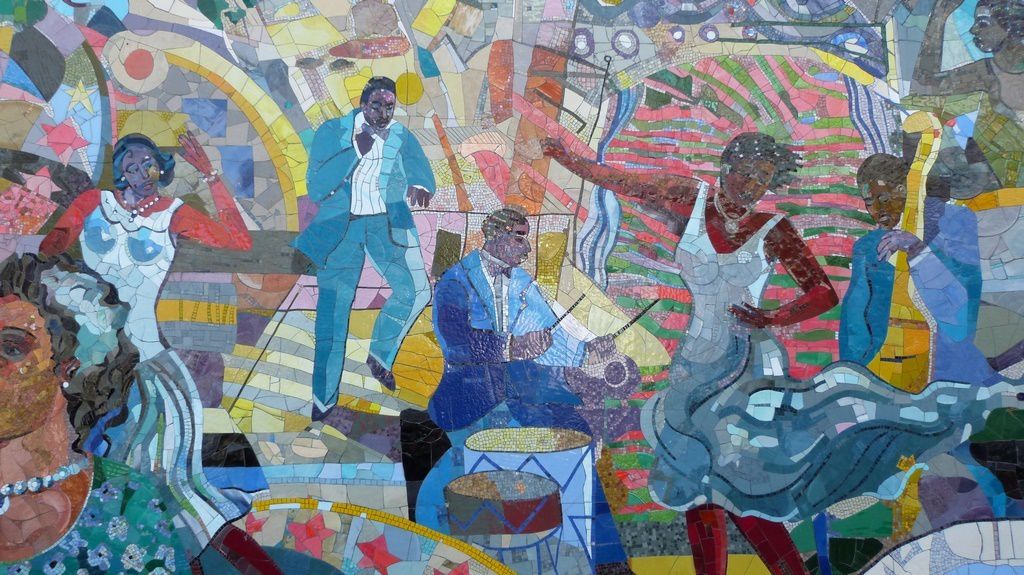 Every month where almost, I publish a photo on this Blog, in the heading "A photo, a story". I gathered some (and others) on "Adobe Spark". You can find them by clicking on the link below :
Pictures and Stories of New York on Adobe Spark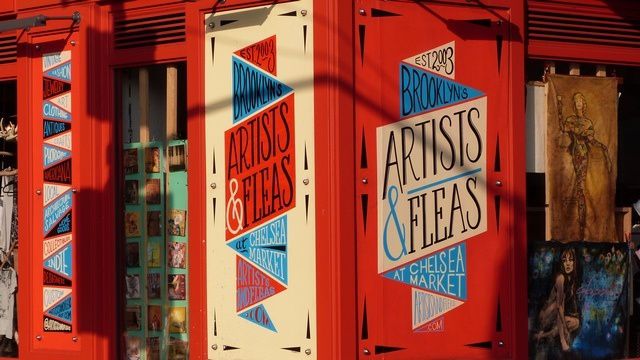 "Pictures ans Stories of New York", a second photo album is on line on "Adobe Spark".
Memories of Florence - The city where art is king on Adobe Spark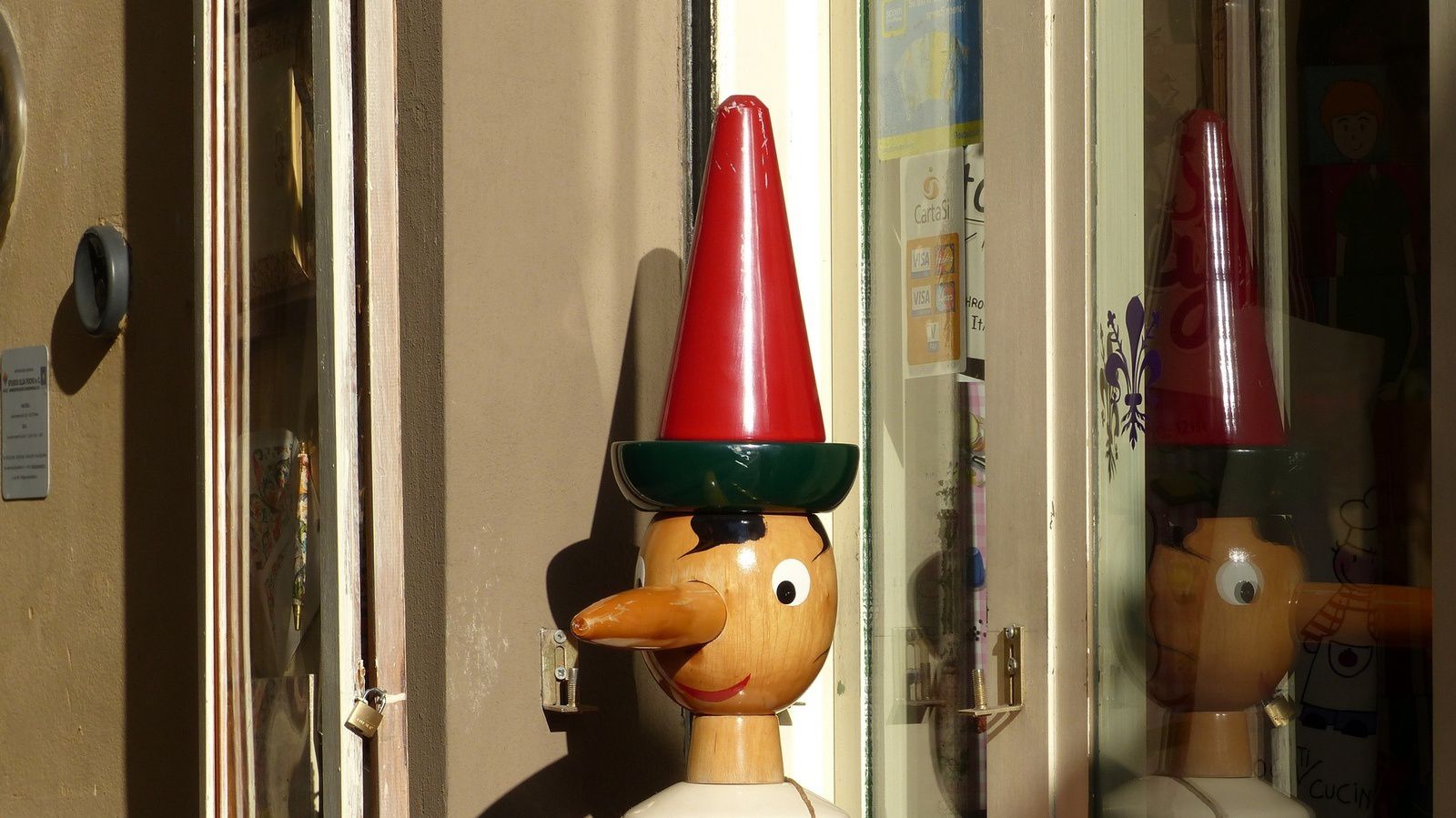 "Memories of Florence" the third photo album is on line on "Adobe Spark".
@@@@@@@@@@@@@@@@@@@@@@@@@@@@@@@@@@@@@@@@@@@@@@@@@@@@@@@@@@@@
Follow Jazznicknames on Twitter : @jazznicknames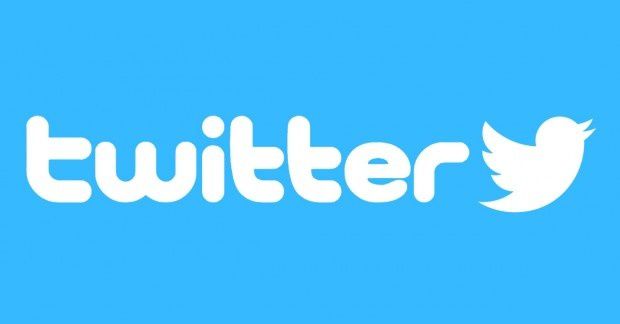 https://twitter.com/jazznicknames
@@@@@@@@@@@@@@@@@@@@@@@@@@@@@@@@@@@@@@@@@@@@@@@@@@@@@@@@@@@@
"Le Blog de Jazznicknames" is an amateur Blog with no lucrative reasons for being. Some pictures and logos are protected by copyright laws. If you have the rights to these pictures and / or logos and wish to have them removed from this website, please contact me by E mail.
The musical and video excerpts on this site are only used to quote and illustrade. They have not been included in any way to entice illegal downloading.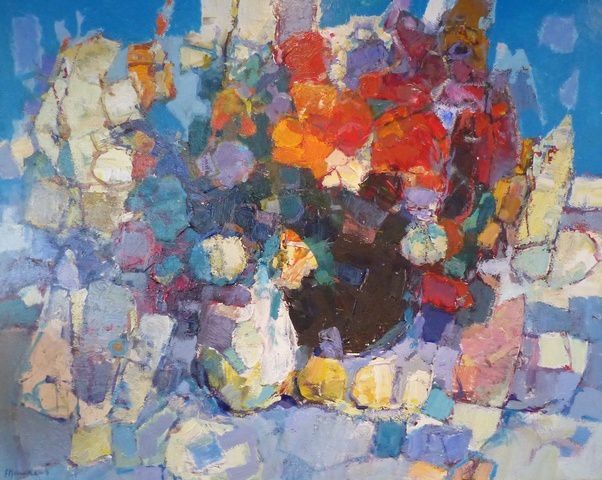 Shanghai - MS Volendam - Frans Manders - "Still Life With White Vase" - March 20, 2017