The News 2018 - May
{
}

29

avr.

2018

This is the english version of the Newsletter.
the original texts have been translated by Sonia B.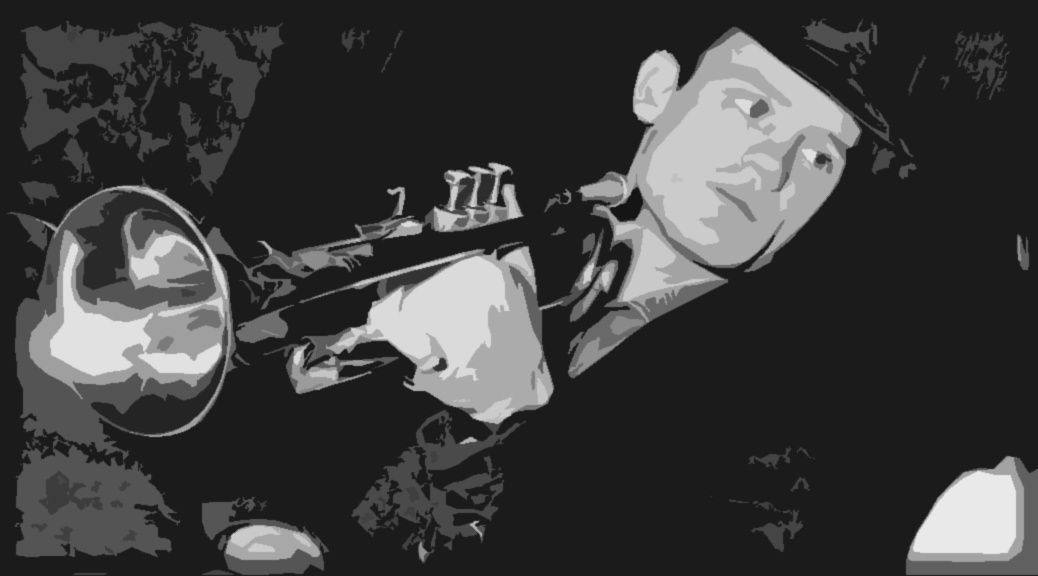 The song of the month
Chet BAKER / That Old Feeling
Remembering Chet BAKER - 30 years later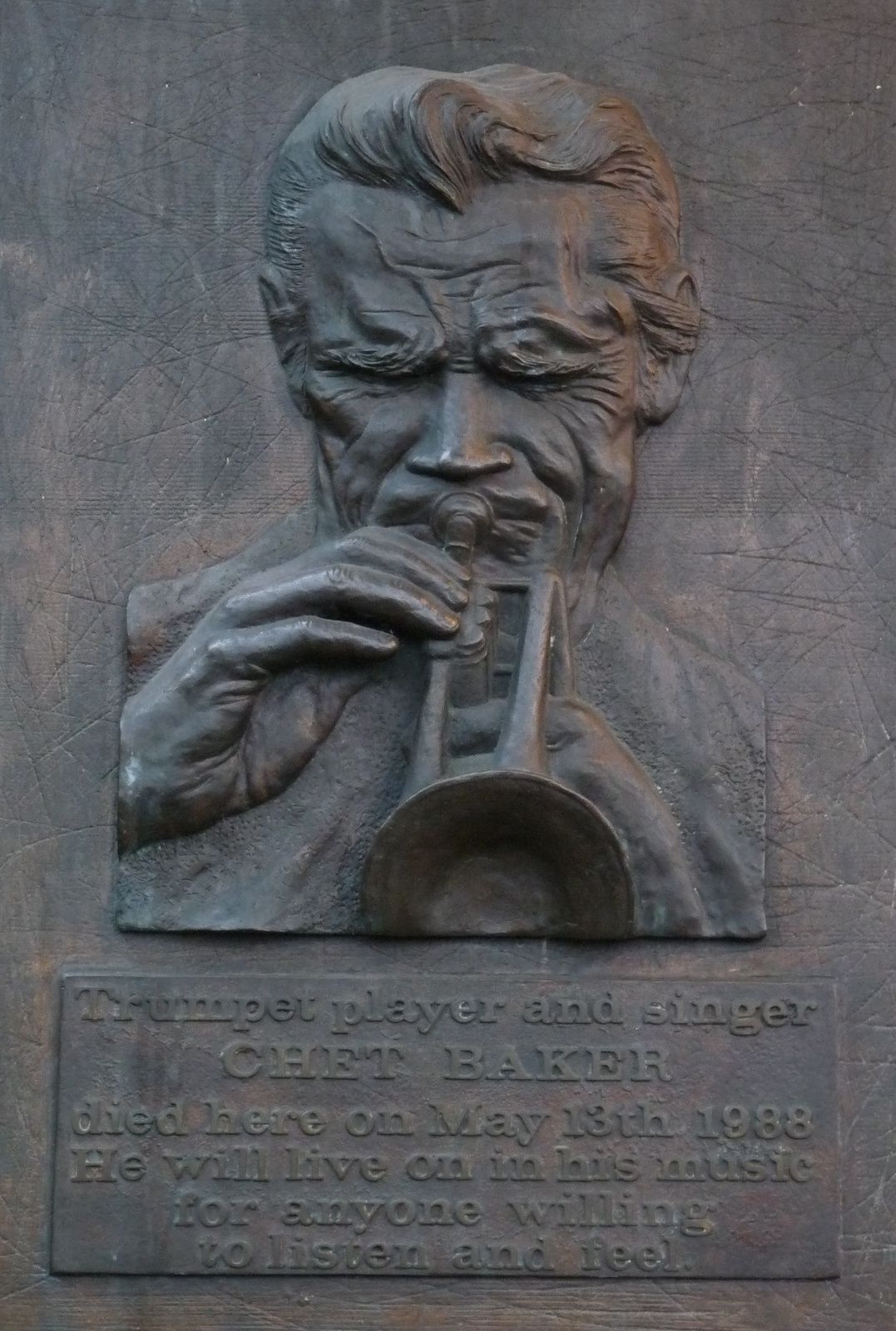 Thirty years ago, on May 13th of 1988, trumpet player and singer Chet Baker prematurely left us, after falling from his bedroom window at the second floor of Prins Hendrik Hotel in Amsterdam. Accident, suicide, execution by drug dealers? One will never know what exactly happened.
It was three in the morning that night, Chet Baker was lying on the sidewalk, gripping his trumpet – distorted by the fall – close to him.
This was the epilogue of a long highway to hell for the West Coast Playboy, a magnificent artist gradually destroyed by heroin and cocaine. Rather than offering you a classic biography that you will easily find on the Internet, I prefered to ask Philippe Vincent to confide us a few memories about Chet.
Chet's Ghost - Philippe VINCENT
Chet Baker will remain for me some sort of a ghost. A few months before he disappeared, I wanted to meet him because, back then in France, I was distributing some of his superb albums released on various European labels (Timeless, Enja, Criss Cross) and I also had in mind to record a disc with him for Ida Records – the adventure of La Note Bleue with Barney Wilen had whetted my appetite for the giants of Jazz.
So I went to hear him one night at Petit Opportun, Paris' most authentic jazz club in the eighties. Knowing that it would be difficult to sit no farer than a meter from him, I chose the third set (around 1am) and found myself in the second small room of the club which could seat no more than sixty people, including the stair's steps. I was only able to glimpse him through the skylight that overlooked the main room where the orchestra was settled, but I still could hear his magic trumpet and his heavenly voice. I had planned to meet him at the bar at the end of the set but, when the moment came, I didn't know what to say. Release a record, but with who? On what theme? Under which conditions?
In the grip of emotion, the few I had devised in my young producer's head had vanished. I had to prepare better for later, but "later" never came.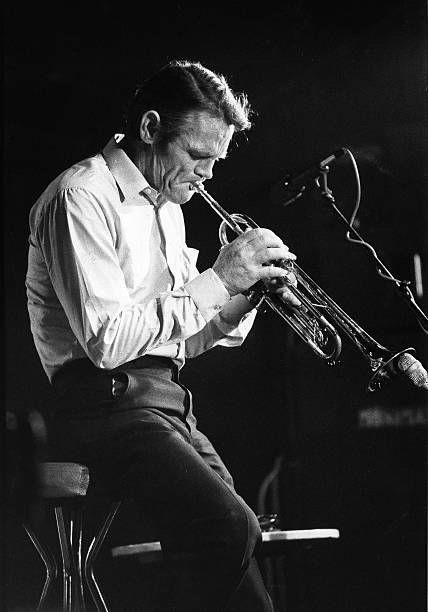 After his sudden passing, I could only meet him by proxy. The opportunity came thanks to Riccardo Del Fra who had been his bass player for many years. Riccardo offered to pay him tribute by recording a set of duos with the musicians who had been Chet's fellow travelers. This beautiful idea gave birth to the splendid album A Sip Of Your Touch, anagram for the famous record The Touch of Your Lips that the trumpet player had released on Steeplechase about ten years before, with Doug Raney (son of Jimmy, guitar player as well) and the fantastic bassist Niels-Henning Orsted Pedersen. Since the end of the seventies, Chet was particularly fond of trios without drums, which was just right for his fragile voice and his graceful music. The duos imagined by Riccardo, characterized by a gentleness sometimes close to contemplation, were in the same spirit. In the studio, the musicians – who all together counted hundreds of concerts with the sweet giant of jazz – seemed to bring the music directly out from the bottom of their broken heart. There were Art Farmer (bugle), Rachel Gould (voice), Michel Graillier, Enrico Pieranunzi (piano), but also Dave Liebman (sax) – the only musician who never played live with Chet (he had to replace Lee Konitz at the last minute) but who fit into the mood with a rare emotion. The record, applauded by the critics, won a Fnac Grand Prix which was given with great ceremony to Riccardo Del Fra, during a memorable night at La Cigale.
This recording gave me the opportunity to meet the wonderful Italian pianist Enrico Pieranunzi who has now become one of the must-see piano players in the jazz world. I already knew some of his albums and this marked the beginning of a collaboration that lasted for many years. I was given the privilege to record him solo, then in duo with Marc Johnson and finally in trio with Marc and Paul Motian. As we had become friends, one day Enrico offered me to reissue Soft Journey on compact disc. He had recorded the album in Italy with Chet at the end of the 70'. Although I wasn't allowed the time to release an original album with "Mr B", I would at least get the chance to introduce amateurs to this little gem that, back then, had past nearly unnoticed because of an erratic distribution. Among the documents put in my hands by Enrico for the booklet illustration, I chose to reproduce in centerfold a fifteen lines autograph signed by Chet, on which he began by expressing his surprise to have been asked to write, for the first time in his career, what could be one day an album's sleeve. On the headed paper of the hotel Anglo Americano in Rome where he was living back then, one is surprised by his beautiful, meticulous and regular handwriting, as if he had preserved this private part of himself from the frenzy of his existence. But what is even more surprising is this other thank-you autograph intended for Enrico, whose illustration shows two music staves on which the notes instantly aligned do not even compose a surrealist song. Its title is written in capital letters : SILENCE.
Silence was one of Chet Baker's favorite notes, which gave his music its delicate and celestial characteristic and was the antithesis of a life made of chaos, violence and wandering. Endorsed by Charlie Parker, Miles Davis and all the others giants while he was a little more than twenty years old, he quickly became a star in the middle of the 50'. Too quickly, maybe. Ten years later, he had his jawbone smashed open by drug dealers and this marked the beginning of a spell in the wilderness that lasted for many years. He reappeared in the 70' but his beautiful James Dean-like angel face was starting to get devastated by the onward march towards a tragic destiny. As a car lover, he spent the last years of his life roaming in Europe without even a house or a bank account. He lived only of and for music, sometimes sleeping up to fifteen or twenty hours in a row so as to make up for the sleepless nights. Although the fragility of his voice and the purity of his music had insured him, on this side of the Atlantic, with a renewed recognition commensurate with his talent, the speedball (a mix of heroin and cocaine) provided him no respite and threw him into the last silence, the one that doesn't play with notes anymore.
Philippe VINCENT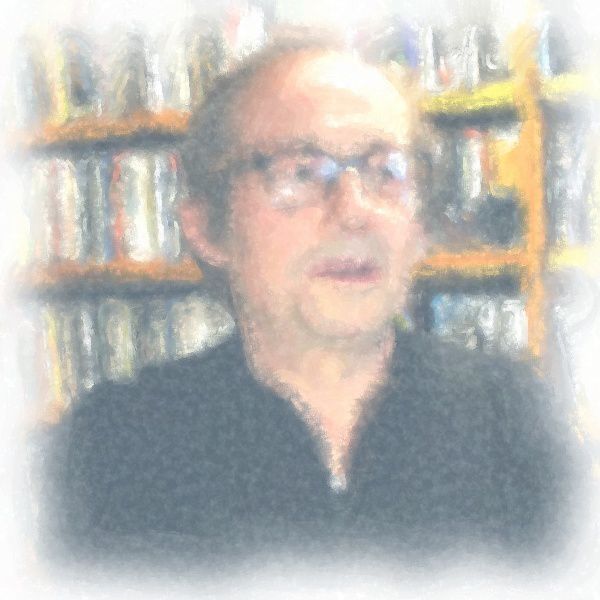 Director of OMD (1983-1996), a society specialized in the distribution of jazz labels (Enja, Timeless, Muse, Sunnyside, GRP, etc.), founder of the label IDA Records (1984-1998) which recorded Barney Wilen, Louis Sclavis, Laurent de Wilde, Enrico Pieranunzi and many others, Philippe Vincent is a member of the Académie du Jazz and a regular contributor to Jazz Magazine/Jazzman since 2008.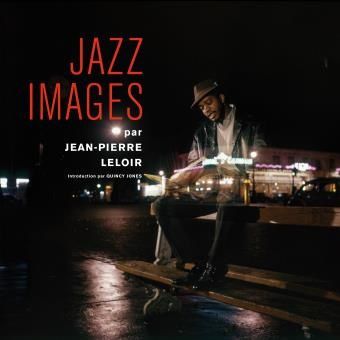 Cet hommage à Chet est l'occasion de vous recommander les superbes rééditions réalisées par le label "Jazz Images Records". Il propose, sous format LP ou CD, plusieurs dizaines d'enregistrements qui ont marqué l'histoire du Jazz, "habillés" avec les clichés des légendaires photographes William Claxton et Jean-Pierre Leloir. Vous y retrouverez Chet, bien sûr mais aussi Sarah Vaughan, Miles Davis, Helen Merrill, Sonny Rollins, Ella Fitzgerald, Bill Evans, Stan Getz et bien d'autres.
"Jazz Images" édite également deux albums photos consacrés à William Claxton et Jean-Pierre Leloir. Indispensable !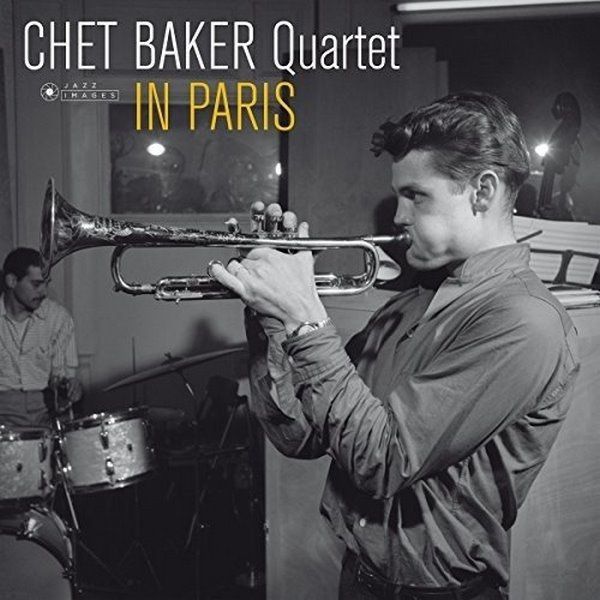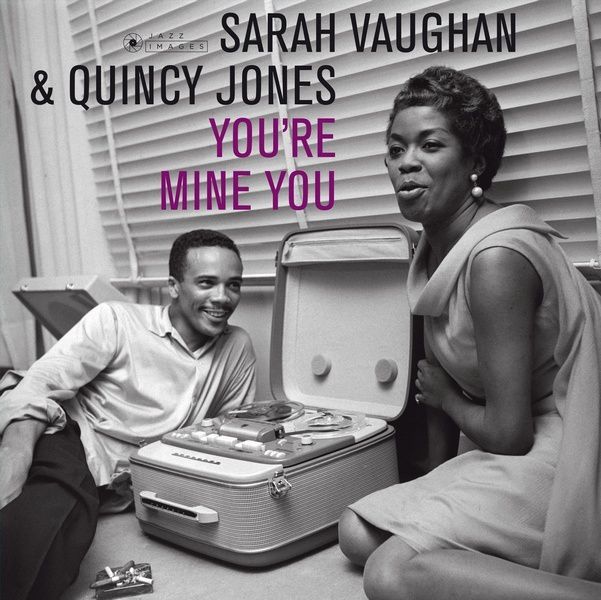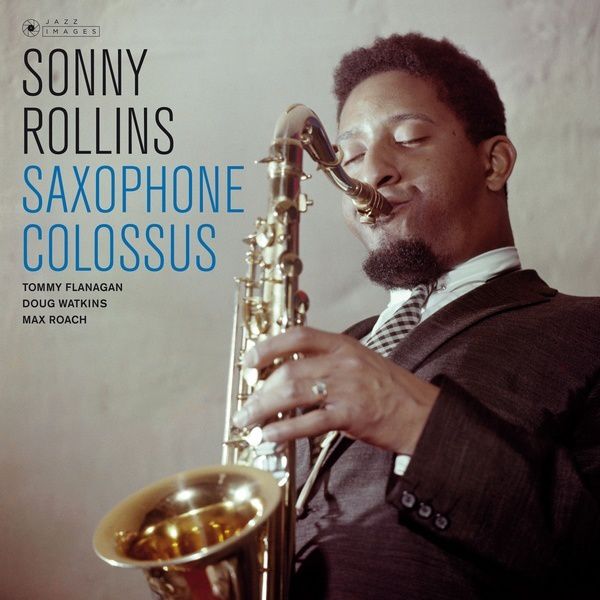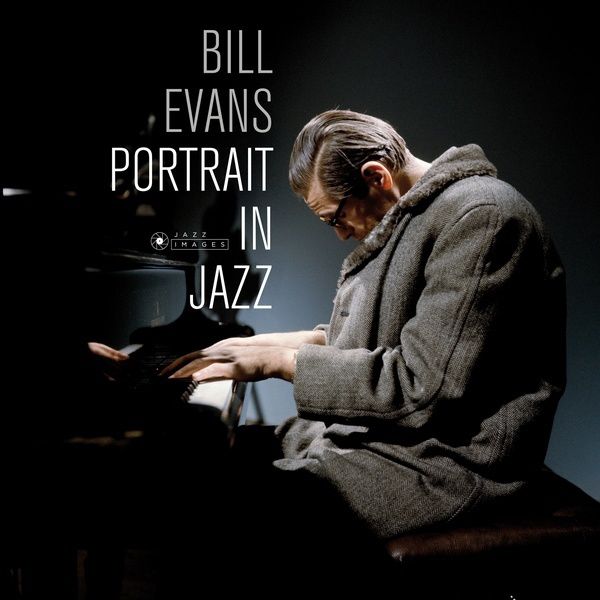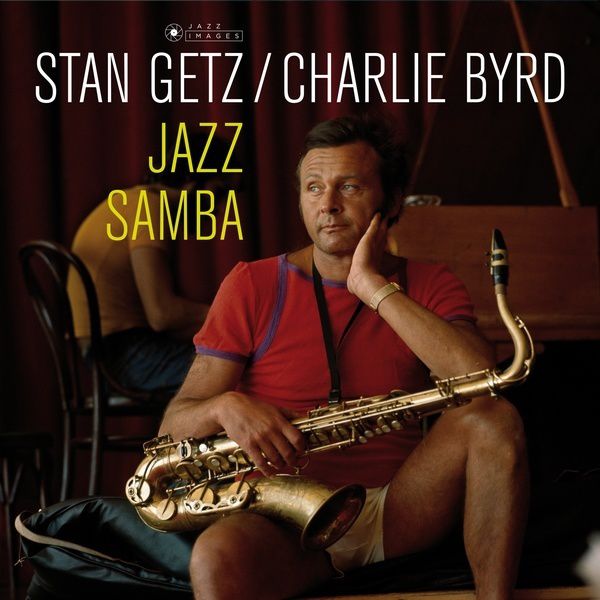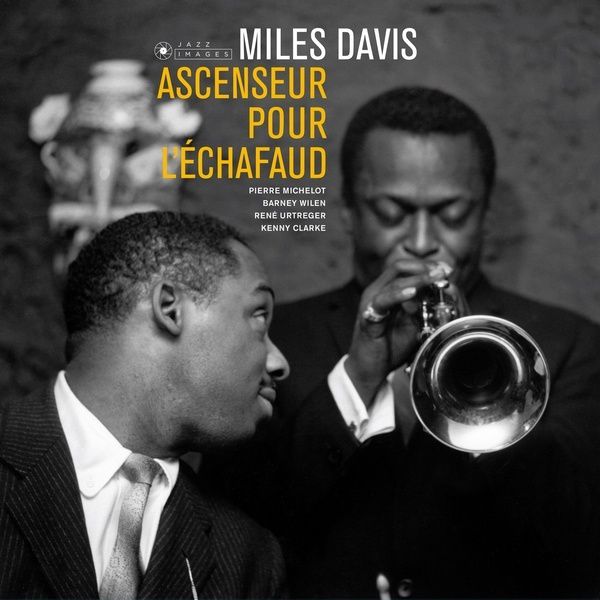 A song, a story,
Richard RODGERS & Lorenz HART / My Funny Valentine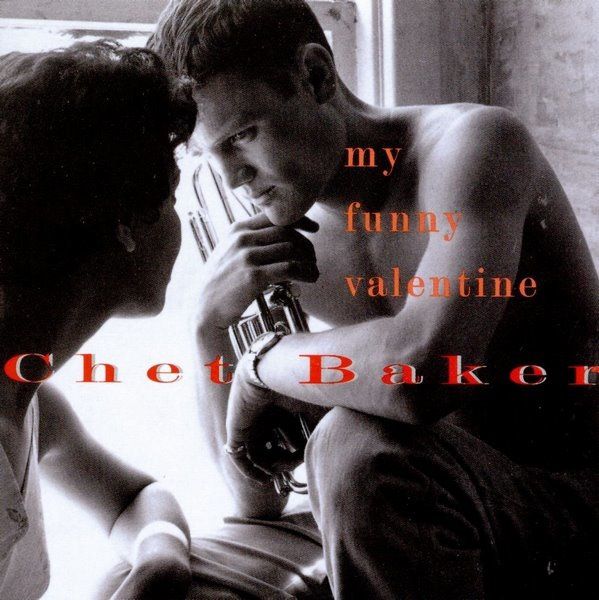 "My Funny Valentine" is one of the songs composed by the famous tandem Rodgers & Hart for the Musical "Babes in Arms" created in 1937 in Broadway's Shubert Theatre. In the show, the song is interpreted by Mitzy Green and goes rather unnoticed, unlike "The Lady Is A Tramp" which is an immediate success. In 1939, the musical is turned into a film (by Busby Berkeley) with Judy Garland and Mickey Rooney as leading actress and actor.
It's not until 1953 that the song becomes a standard with Frank Sinatra's version on his album Songs For Young Lovers. The song today counts many hundred versions.
Among the most beautiful ones, one can mention Sinatra's but also Miles Davis' (Cookin' With The Miles Davis Quintet, 1956), Carmen McRae' on her album After Glow (1957) and Bill Evans & Jim Hall's (Undercurrent, 1962)
The most emblematic interpretation remains however Chet Baker's one on his album "Sings" (1956).
Chet had first recorded the song in 1953 with Gerry Mulligan's Quartet, but the unforgettable version is for sure the 1956's one.
"I could sense in him an overwhelming depth, I learn from him self-control: that is to say, when one tries to create what is essential. Perfection, as everyone knows, doesn't exist. But when he plays, he's very close to perfection. And when playing with him, one has to serve music and free oneself from one's ego. Let's say that his virtuosity is more magical than technical". Riccardo Del Fra, about Chet
Album
Olegario DIAZ / I Remember Chet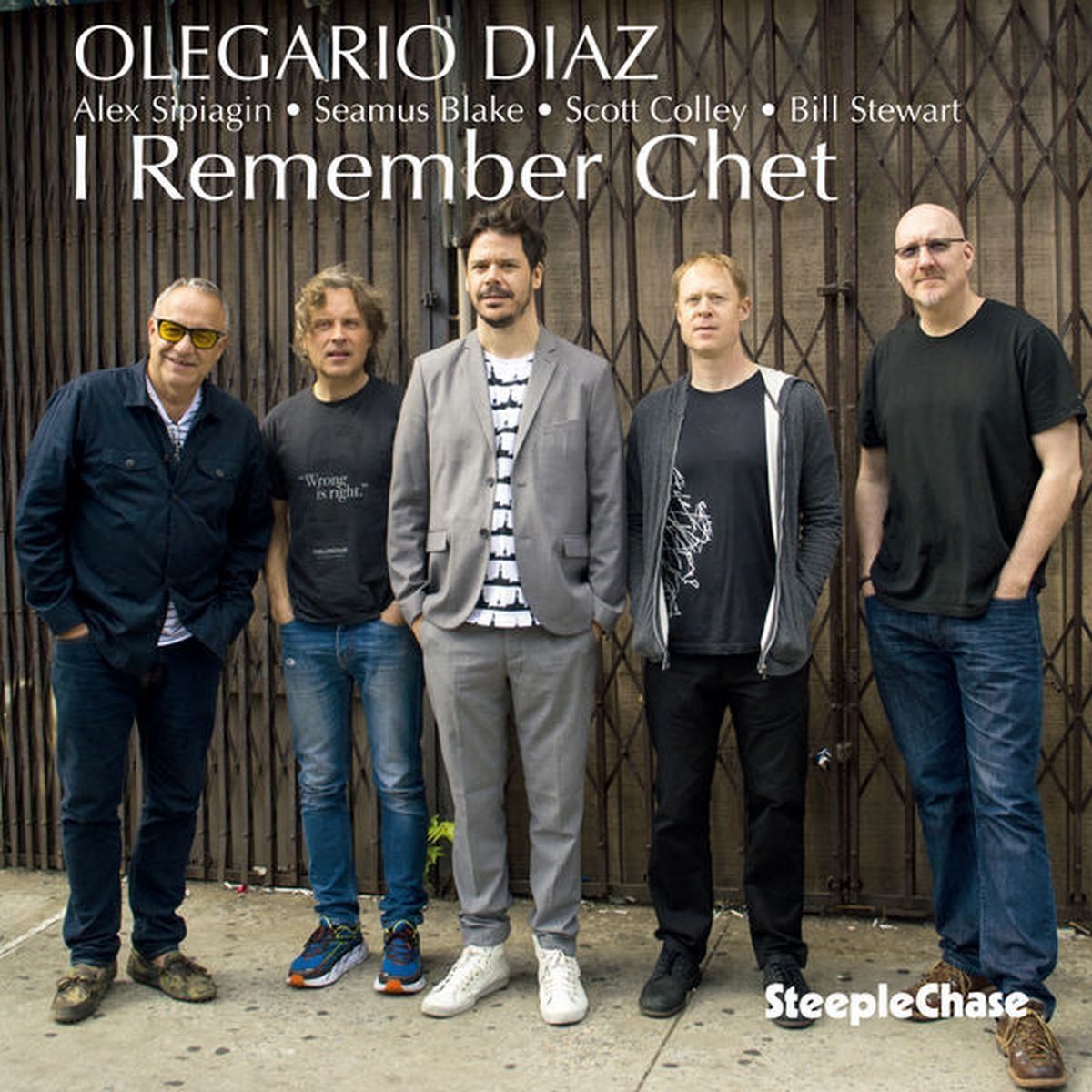 Venezuelan pianist and composer Olegario Diaz offers us a tribute album to Chet Baker (there will probably be many more this year !).
Born in Caracas, Olegario Diaz went to the United States when he was 17, in order to study at the prestigious "Berklee College of Music" in Boston, than at the "Manhattan School Of Music". Endowed with this solid education, he went back home where he has become the local Jazz reference.
He regularly plays at "Juan Sebastian Bar", the Caracas den of Jazz lovers since more than thirty years.
He also wrote many music methods and books about Jazz.
On his 5th album, he surrounds himself with Russian trumpet player Alex Sipiagin, Canadian sax player Seamus Blake, as well as two Americans – Scott Colley on bass, Bill Stewart on drums.
Their music : a rather inspired Post-bebop, as the two extracts below will show.
Two more beautiful tributes in the past years.
"Shades Of Chet", recorded by the Quintet : Enrico Rava (Trumpet and FlugelHorn), Paolo Fresu (Trumpet and FlugelHorn), Stefano Bollani (Keyboards), Enzo Pietropaoli (Double Bass) & Roberto Gato (Drums)
"I Thought About You", recorded by the Brasilian Pianist and Singer Eliane Elias with Randy Brecker (Trumpet and FlugelHorn) & Marc Johnson (Double Bass).
"His sound so pure, like an emanation of his soul, the intensity, the capacity to scolpture in the air marvellous melodies, the poetry, perfect concept of time and most of all his way of always generatig deep emotion. All these things were for me an inexaustable fountian of inspiration. Chet has made my life more rich and beautiful". Enrico Rava, about Chet
Concert
Youn Sun Nah / Cébazat - Le Sémaphore - 23 mars 2018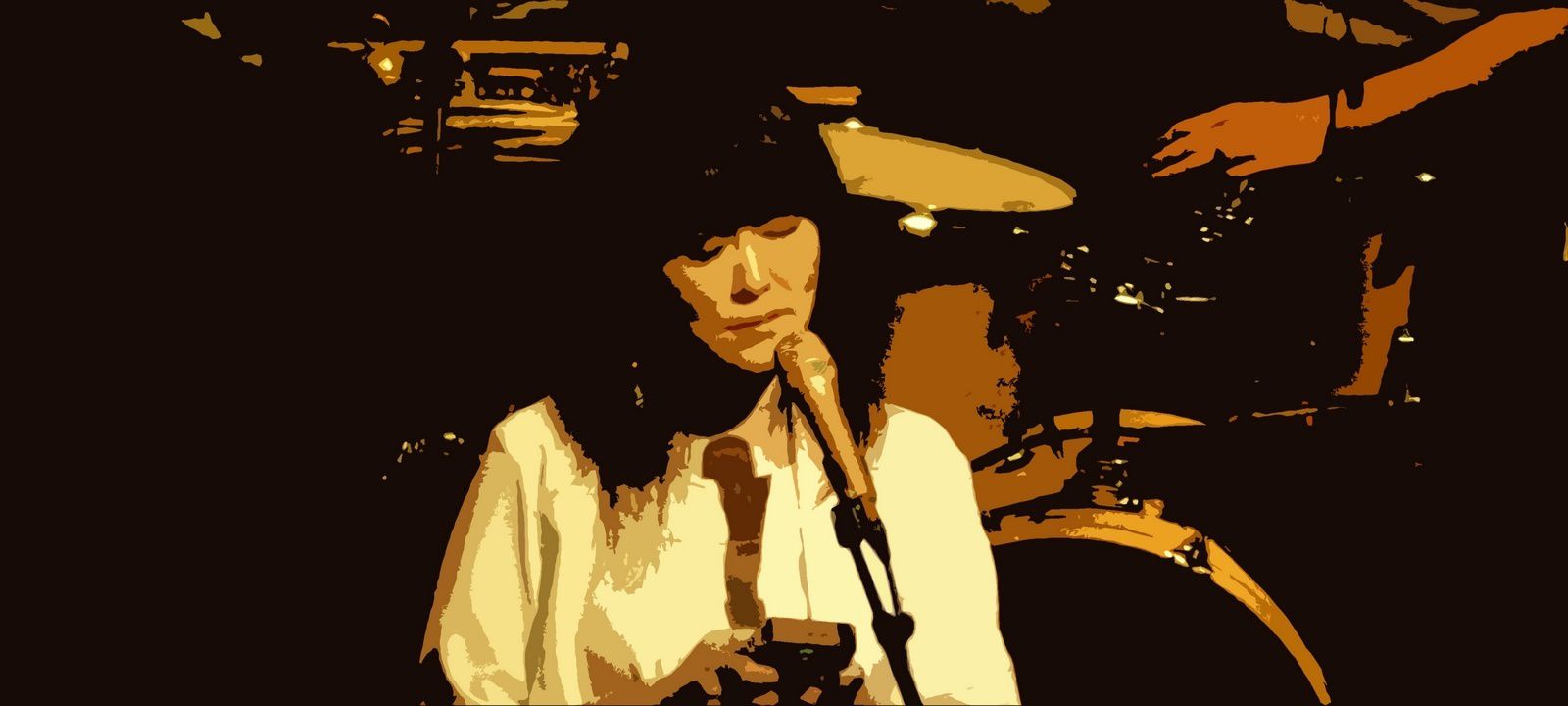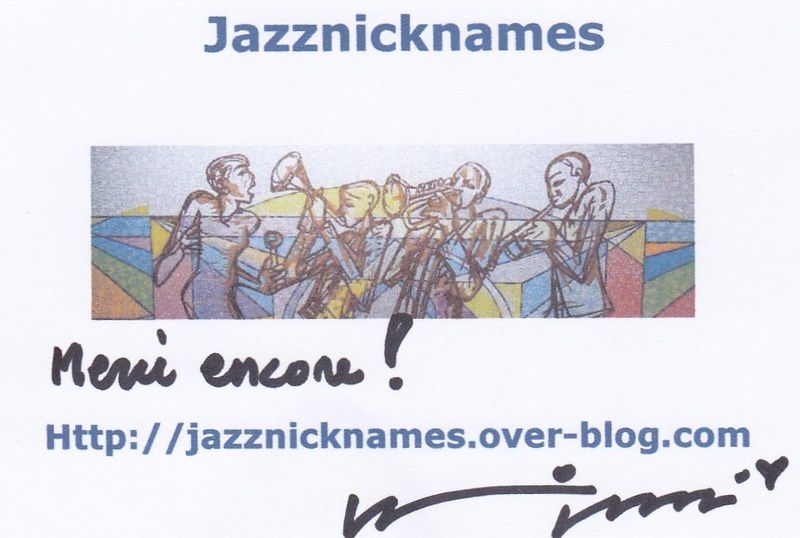 After three albums (Voyage, Same Girl & Lento) and multiple tours with her faithful accompanist – Swedish guitarist Ulf Wakenius – Youn Sun Nah felt the need to give a fresh boost to her career.
After a two-year break, she makes a come-back with a splendid new album entitled She Moves On.
(See the News of June 2017).
http://jazznicknames.over-blog.com/2017/05/les-news-2017-juin.html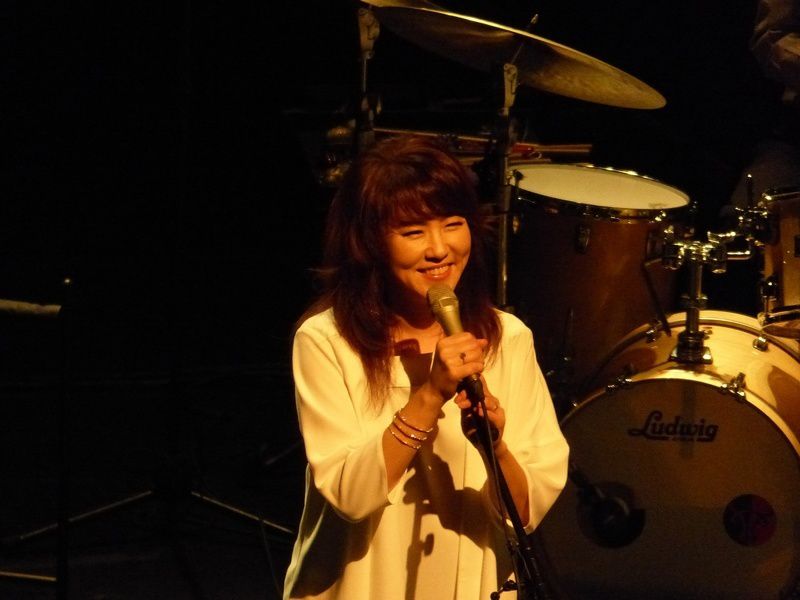 A new band, a new repertoire, but her extraordinary voice remains, with its unique sensibility. Change in continuity, as it were !
On March 23rd she performed at Cébazat's Sémaphore – a venue, located on the outskirts of Clermont-Ferrand, that has been offering a high-quality line-up for 20 years (Stacey Kent, Kurt Elling, Ibrahim Maalouf, André Ceccarelli, Éric Truffaz, Sarah McKenzie… and Youn Sun Nah in 2014, as far as Jazz is concerned).
As ever, the magic comes with the first measures of the first song. She immediately installs a climate that literally subjugates the audience whose heart is also won by herkindness and simplicity.
Her carefully chosen repertoire is more eclectic than ever. She takes possession of and transcends every song, perfectly supported by four musicians whose cohesion and quality are worth noting. In short, a great night! Thanks to Axel Matignon who allowed me to take these photos during the concert.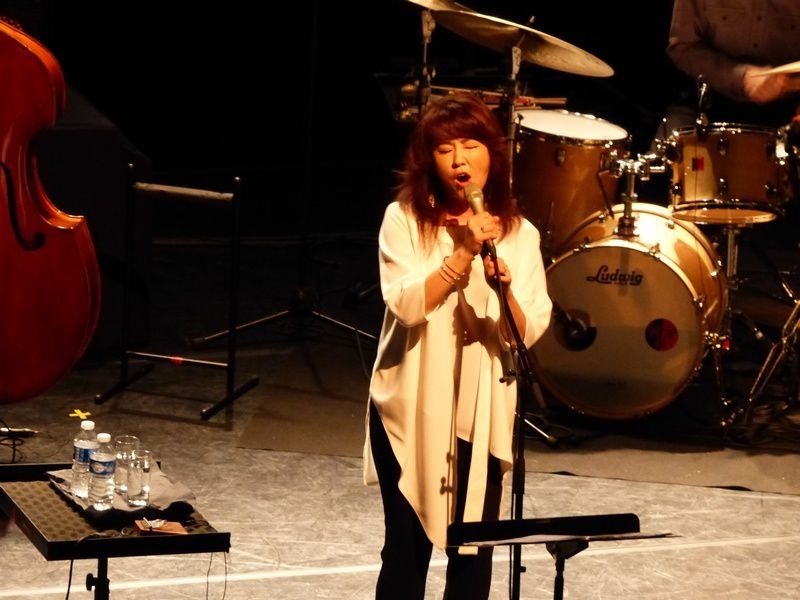 The musicians
Youn Sun Nah (Vocals, Kalimba), Frank Woeste (Keyboards), Tomek Miernowski (Guitars), Brad Christopher Jones (Acoustic Bass) & Dan Rieser (Drums).
On her setlist
Teach The Gifted Children (Lou Reed), Drifting (Jimi Hendrix), She Moves On (Paul Simon), A Sailor's Life (Traditional / Arr. Fairport Convention), Momento Magico (Ulf Wakenius), The Downtreader (Joni Mitchell), Black Is The Color Of My True Love's Hair (traditional / Arr. Youn Sun Nah), Jockey Full Of Bourbon (Tom Waits). And as usual, the emotional moments : Hallelujah (Leonard Cohen) in duo with Tomek Miernowski. As an encore, Avec Le Temps (Léo Ferré) in duo with Frank Woeste.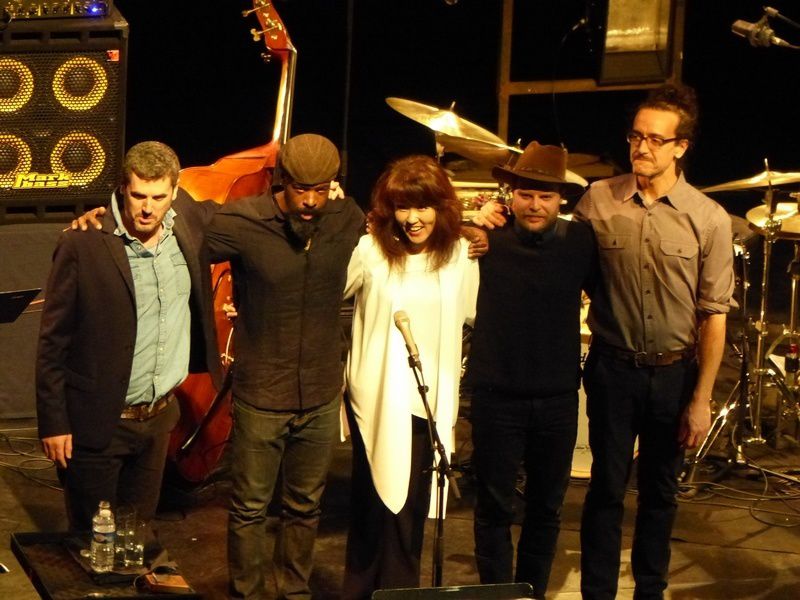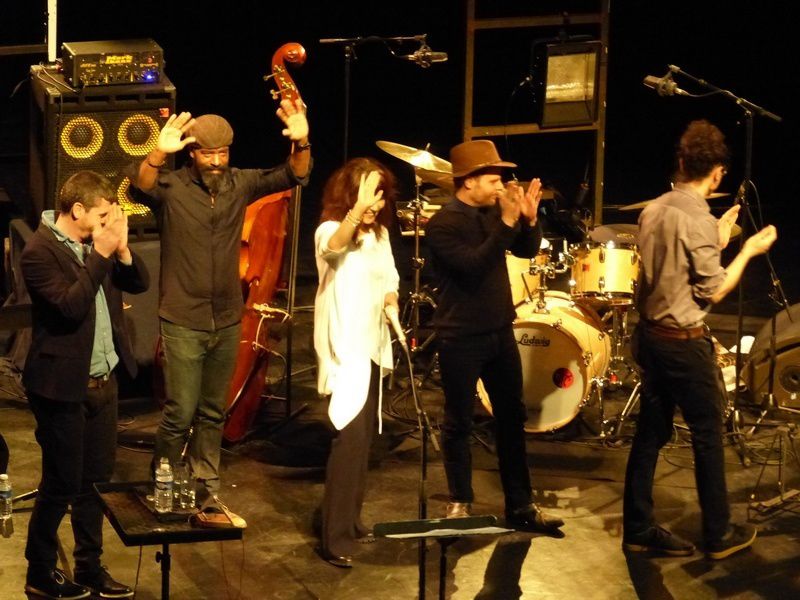 A painter to discover or rediscover
Henry DENANDER
Henry Denander is a Swedish painter, sculptor and poet, born in Stockholm in 1952. This watercolor specialist likes to sketch musicians (John Coltrane, Miles Davis, Lightnin' Hopkins, Willie Dixon, Reverend Gary Davis, Willie Nelson... or, as below, Chet Baker).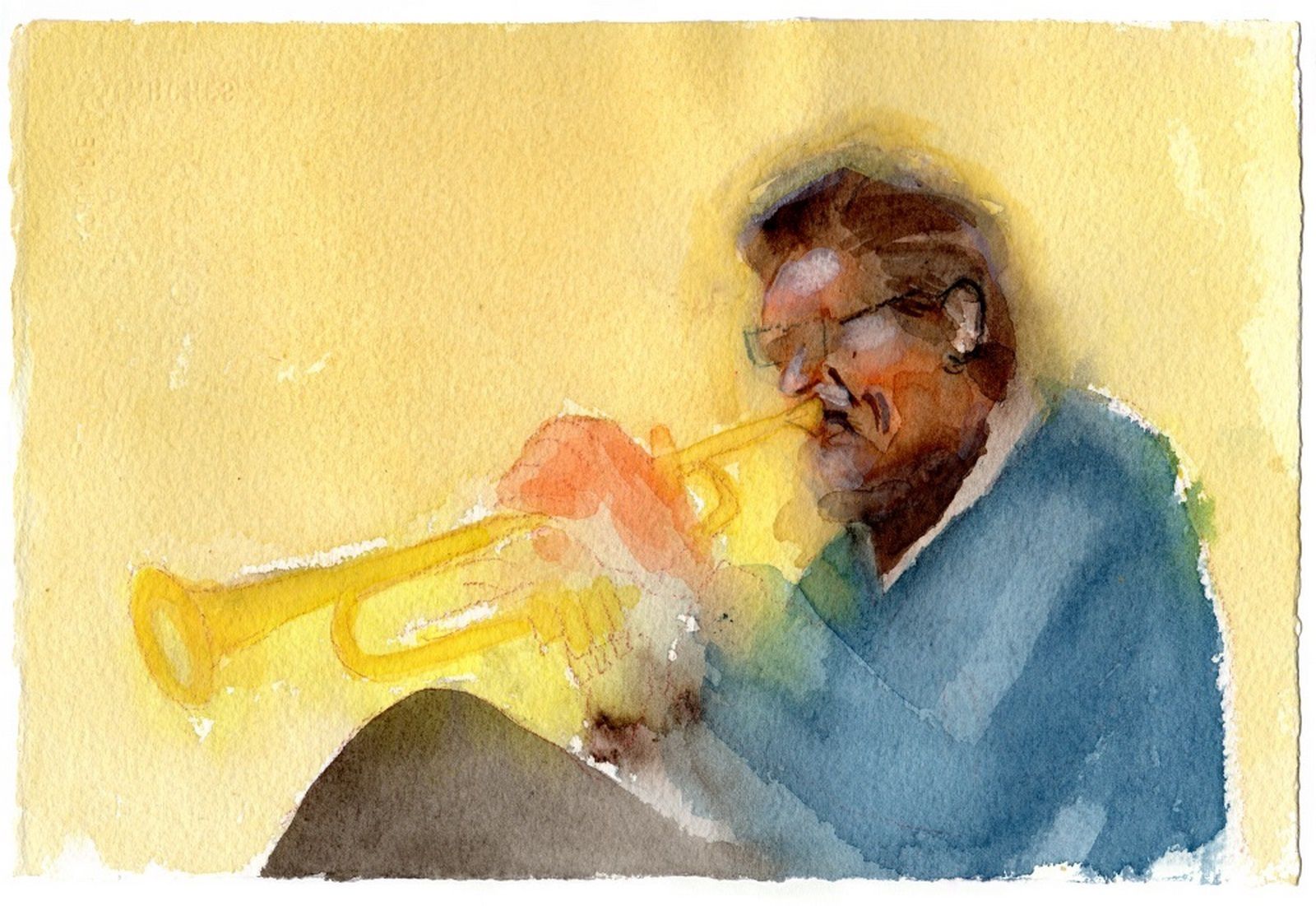 Henry Denander - Chet Baker - Watercolor (2017)
A Picture, A Story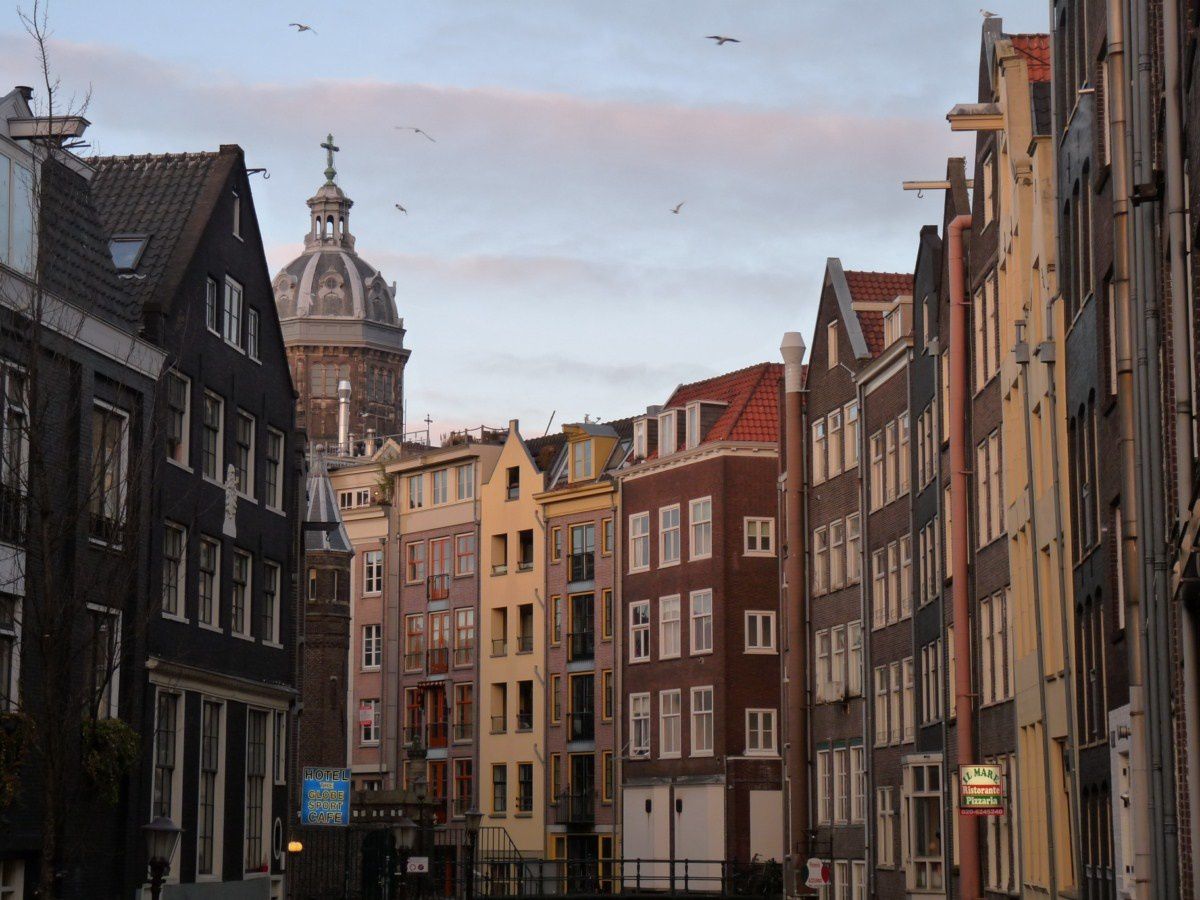 Amsterdam - January 1st, 2011
In the early morning's beautiful light, one can catch slight of the Basilica of Saint Nicholas' dome, behind the houses that border the Oudezijds Vooburgwal Canal. We are here at the heart of Amsterdam, near the Damrak and Prinz Hendrik hotel.
A Picture, A Story on Adobe Spark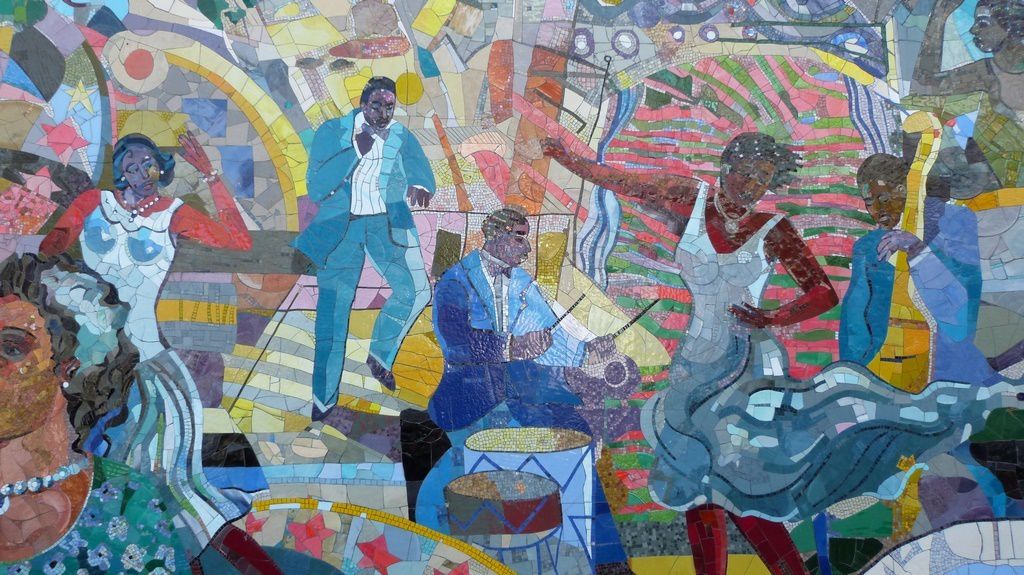 Every month where almost, I publish a photo on this Blog, in the heading "A photo, a story". I gathered some (and others) on "Adobe Spark". You can find them by clicking on the link below :
Pictures and Stories of New York on Adobe Spark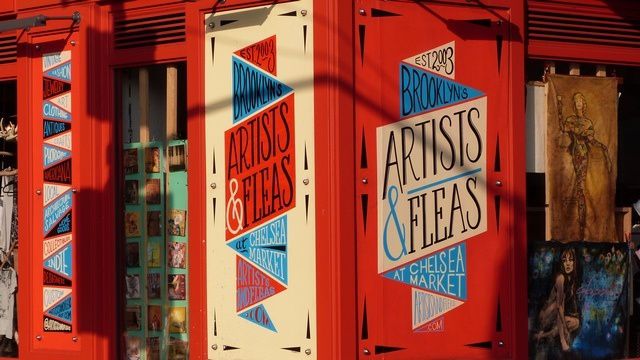 "Pictures ans Stories of New York", a second photo album is on line on "Adobe Spark".
Memories of Florence - The city where art is king on Adobe Spark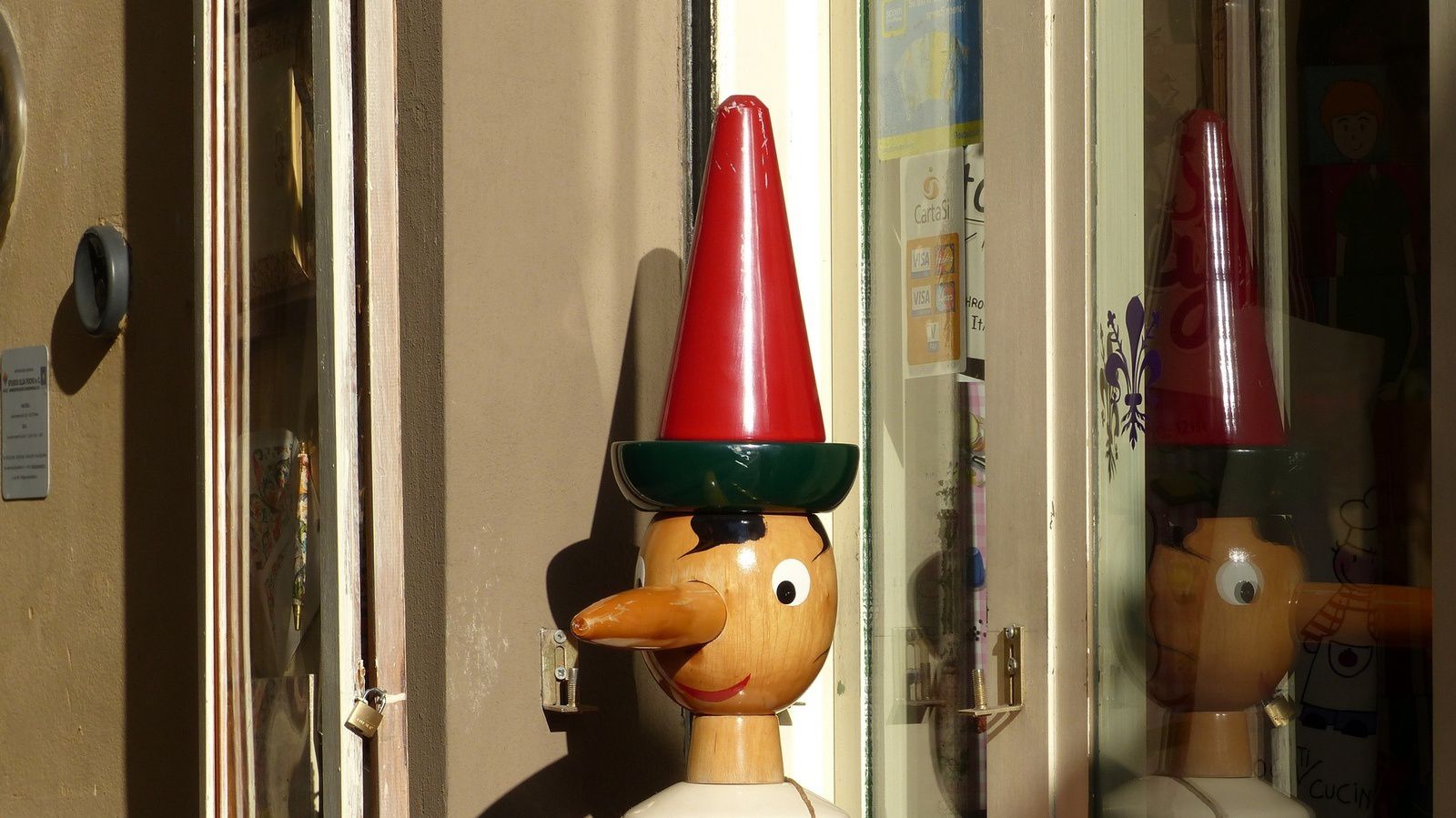 "Memories of Florence" the third photo album is on line on "Adobe Spark".
@@@@@@@@@@@@@@@@@@@@@@@@@@@@@@@@@@@@@@@@@@@@@@@@@@@@@@@@@@@@
Follow Jazznicknames on Twitter : @jazznicknames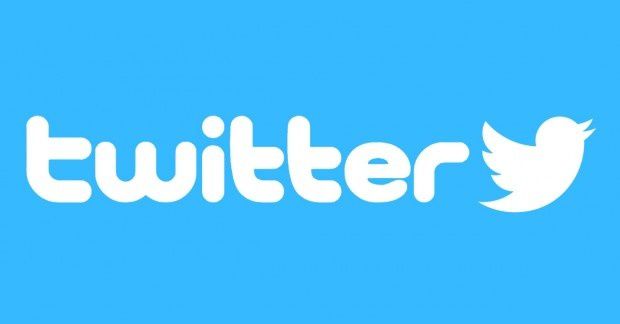 https://twitter.com/jazznicknames
@@@@@@@@@@@@@@@@@@@@@@@@@@@@@@@@@@@@@@@@@@@@@@@@@@@@@@@@@@@@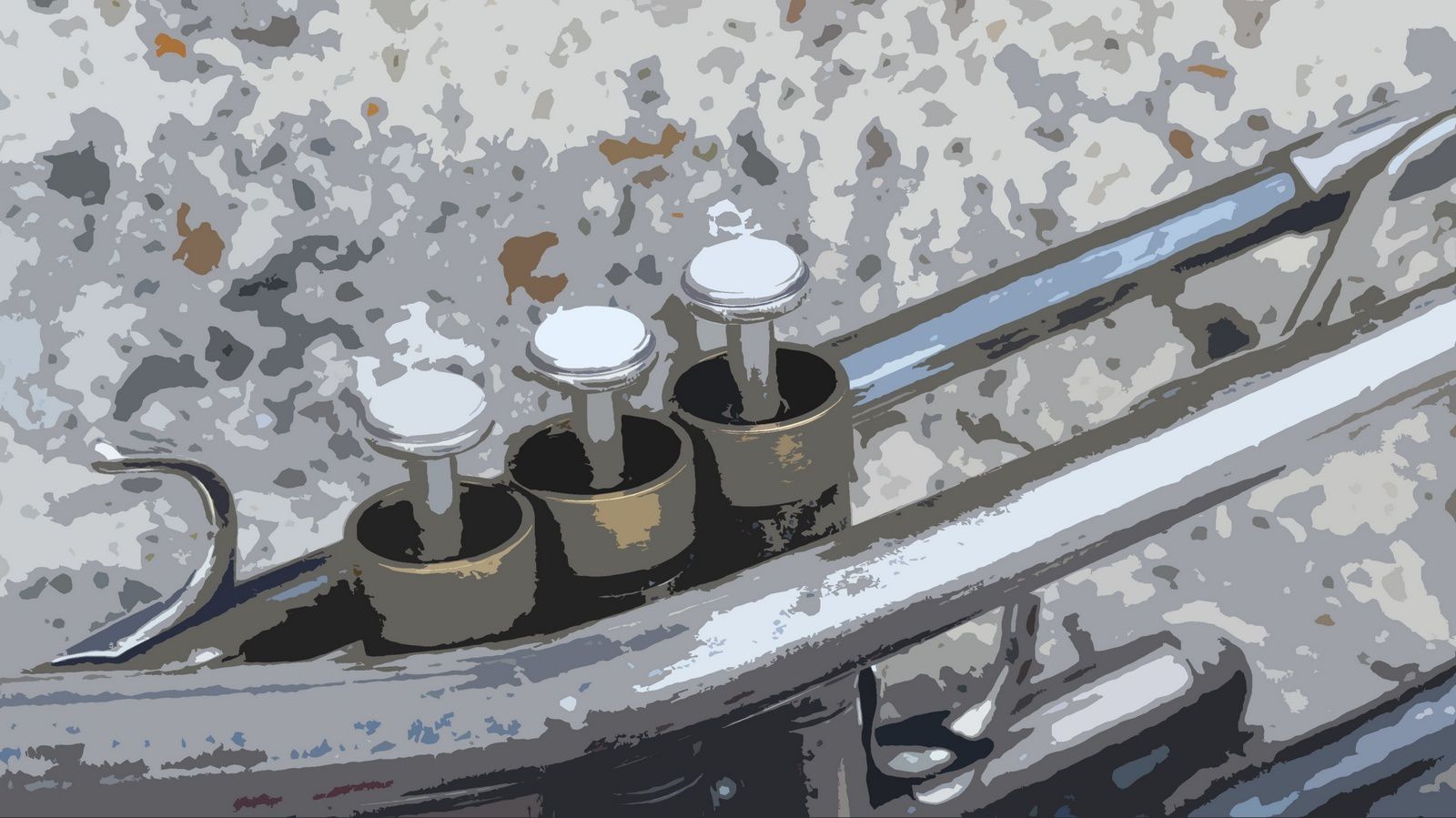 "Le Blog de Jazznicknames" is an amateur Blog with no lucrative reasons for being. Some pictures and logos are protected by copyright laws. If you have the rights to these pictures and / or logos and wish to have them removed from this website, please contact me by E mail.
The musical and video excerpts on this site are only used to quote and illustrade. They have not been included in any way to entice illegal downloading.